JACQUES DEMIERRE
ABÉCÉDAIRE
ABC-BOOK
LENKA LENTE – MAI 2018
LIVRE + CD
250 PAGES
ÉDITION BILINGUE
FRANÇAIS / ANGLAIS
15 X 19,5 CM
ISBN : 979-10-94601-22-8
Avant-propos : Guillaume Belhomme
Traduction anglaise : Petya Ivanova
Photo : Peter Gannushkin
Entre les versions française et anglaise de l'abécédaire est reproduite la partition de Ritournelle, composition (inédite) pour voix de Jacques Demierre dont un CD rend ici l'interprétation (par le même), enregistrée fin mars 2018.
Cone of Confusion
Jacques Demierre
Axel Dörner
Jonas Kocher
Recorded in Biel/Bienne (CH) on November 3 2017
Mixed by Axel Dörner and mastered by Ilia Belorukov
JACQUES DEMIERRE & ANOUCK GENTHON – tǝɣǝrit
CONFRONT RECORDINGS (confront collectors series ccs 88)
Jacques Demierre, voice
Anouck Genthon, violin
Recorded February 27, 2017 by Blaise Favre in Yverdon-les-
Bains, Switzerland.
Mixed and mastered by Blaise Favre at Vietnet Studio.
Original compositions by Demierre & Barras reworked by
Demierre and Genthon.
DDK – floating piece of space
Jacques Demierre Axel Dörner Jonas Kocher
Format: 12" vinyl, 45t
face A – the mirror : 18'06"
face B – the garden : 17'41"
Enregistré live à la cave12 en octobre 2014 lors d'un concert qui fut remarquable de tensions acoustiques, contre-pieds suspendus, intrications de sonorités scalpelisées, dépôts sonores orfévriques hautement focalisés, éruptions éparses, retenues magnificentes, une trompette-rayon-laser tout bonnement fantastique, voire extraterrestre, c'est avec un immense plaisir que la cave12, en étroite collaboration avec les musiciens du trio sort ce vinyle, « floating piece of space ». Fernando Sixto/Cave12
LISTENING – CARNET DE ROUTE LDP 2015
Jacques Demierre, Urs Leimgruber, Barre Phillips 
Avant-propos : Guillaume Belhomme
Lenka lente 
livre paru en mai 2016
édition trilingue (textes en français, anglais, allemand)
15 x 19,5 cm (broché)
274 pages (ill. n&b)
ISBN : 979-10-94601-05-1
EAN : 9791094601051
En 2015, les musiciens Urs Leimgruber, Jacques Demierre et Barre Phillips donnèrent, dans le cadre de la tournée « Listening », une grande série de concerts des deux côtés de l'Atlantique. Au gré du voyage, ils adressèrent au site internet Le son du grisli des souvenirs, des anecdotes, des pensées et des photos qui composent un carnet de route que ce livre reprend dans une version augmentée.
Cela fait quinze ans qu'Urs Leimgruber, Jacques Demierre et Barre Phillips improvisent ensemble sous le nom de LDP. Quinze années d'une improvisation qui n'en finit pas, selon l'aveu de Demierre : « LDP joue un unique concert qui continue depuis bientôt quinze ans. Le silence entre chaque performance est simplement d'une durée un peu plus longue que celle des silences joués sur scène. Car l'écoute que nous avons du trio ne cesse pas le concert une fois terminé, elle se prolonge, elle tisse sans cesse un lien dynamique avec la mémoire, jusqu'à la prochaine rencontre live des trois musiciens. 
Bondi, D'incise, Demierre – Iterare
Rhizome s
Cyril Bondi : melodica, bass melodica, harmonica, tuned
bowl 
d'incise : melodica, harmonica, electronic tones, tuned
object 
Jacques Demierre : indian harmonium
Recorded in september 2014 by Benjamin Vicq, Holophonic
studio, Geneva, CH
Mix by d'incise
paru le 7 juillet 2016 
LDP TRIO – 1 3 2 1
jazzwerkstatt
Urs Leimgruber Jacques Demierre Barre Phillips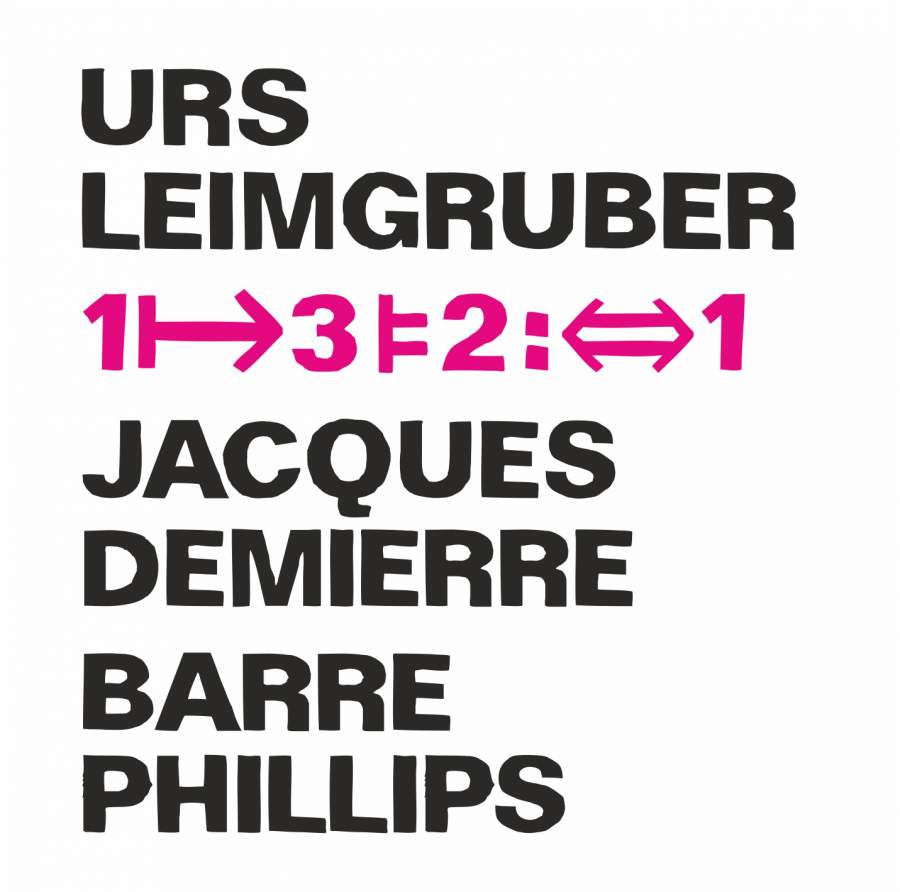 MATHEMATICAL THEORY: THIS EQUATION: THIS TRIO: 1 IS THE INDIVIDUAL -WHOSE INPUT IS THE BASIS OF THE WORK – WHICH BECOMES 3, THE TRIO.
FROM THERE, 3, WE MOVE TO 2, WHICH IS THE AUDIENCE PLUS THE TRIO AND THEN WE MOVE BACK TO 1.
THIS NEW 1 IS THE SAME INDIVIDUAL BUT IS NO LONGER THE SAME.
BARRE PHILLIPS
THE THIRTY AND ONE PIANOS
the thirty pianos orchestra
jacques demierre
conductor, composition, piano
all music by jacques demierre, SUISA
thirty pianos recorded live on september 9, 2012 by denis rollet at le galpon, geneva, switzerland during cataclysme pianos, three days of events curated by cave12, théâtre le galpon and boxing piano
free fight edited by jacques demierre from a piano solo concert recorded live on october 15, 2000, at CCS, paris, france
mixed by adrien kessler and mastered by blaise favre
 on flexion records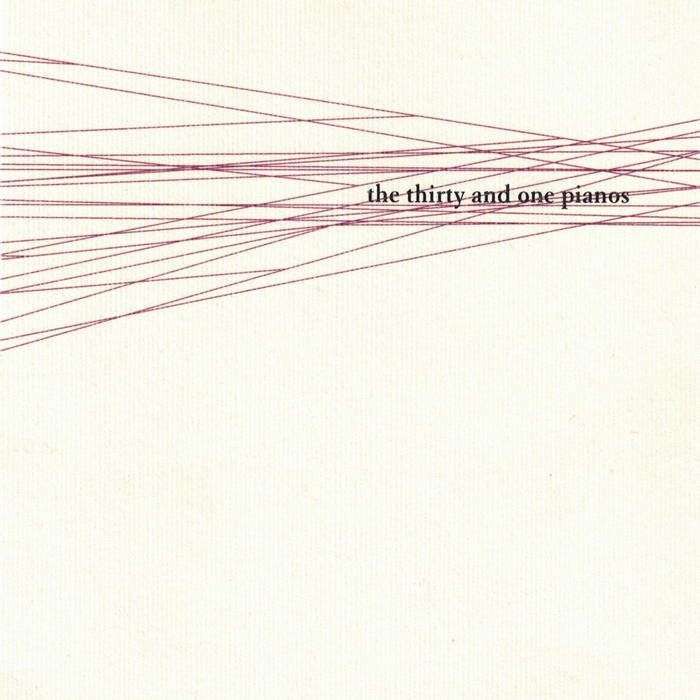 6IX – NOTHING MORE
Jacques Demierre / piano
Okkyung Lee / cello 
Thomas Lehn / synthesizer 
Urs Leimgruber / soprano saxophone
Dorothea Schürch / voice, singing saw
Roger Turner / drums, percussion
Recorded by Katherine Arnold at Cafe OTO November 2013  
Mixed by Thomas Lehn.
Mastered by Andreas [LUPO] Lubich at Calyx, Berlin.
ARCANA VII
Musicians on Music
Jacques Demierre in Conversation with Guillaume   
Belhomme
Hips Road, edited by John Zorn
Voicing Through Saussure
bardem, triple CD
Vincent Barras & Jacques Demierre 
Breaking Stone – Jacques Demierre
TZADIK Records Composer Series
recorded April 12, 2011 by Alex Inglizian at Experimental
Sound Studio, Chicago
mixed by Adrien Kessler at Vélodrome Studio, Geneva,
Switzerland
pre-mastered by Blaise Favre at Vietnet Studio, Yverdon-
les-Bains, Switzerland
mastered by Scott Hull, February 4, 2013, New York
On TZADIK, Composer Series, TZ 9001
6ix
Leo Records
Okkyung Lee
Dorothea Schürch
Thomas Lehn
Roger Turner
Urs Leimgruber
Jacques Demierre